Presidential Candidate Robert F. Kennedy Jr. has spoken out against arguments critical of Bitcoin over its perceived environmental impact. He said that opponents are using it as a smokescreen to curtail financial freedom. 
On July 31, Robert F. Kennedy Jr. (RFK) reacted to what he said was an "interesting argument" that Bitcoin was not so bad for the environment after all.
Bitcoin Environmental Impact Arguments  
Commenting on Sangha Systems director Daniel Feldman's post on Bitcoin's "symbiotic relationship" with renewable energy, he said.
"At the very least, environmental arguments should not be used as a smokescreen to curtail freedom to transact."
Earlier this month, RFK Jr. described his vision for returning USD to a hard currency and backing it with assets such as BTC.
Anti-crypto politicians have often cited Bitcoin mining as being harmful to the environment over its high energy usage. Some environmentalists, such as Greenpeace, have gone to such extremes as to accuse BTC of destroying the planet. 
While Bitcoin mining is energy-intensive, it uses more renewable energy now than ever.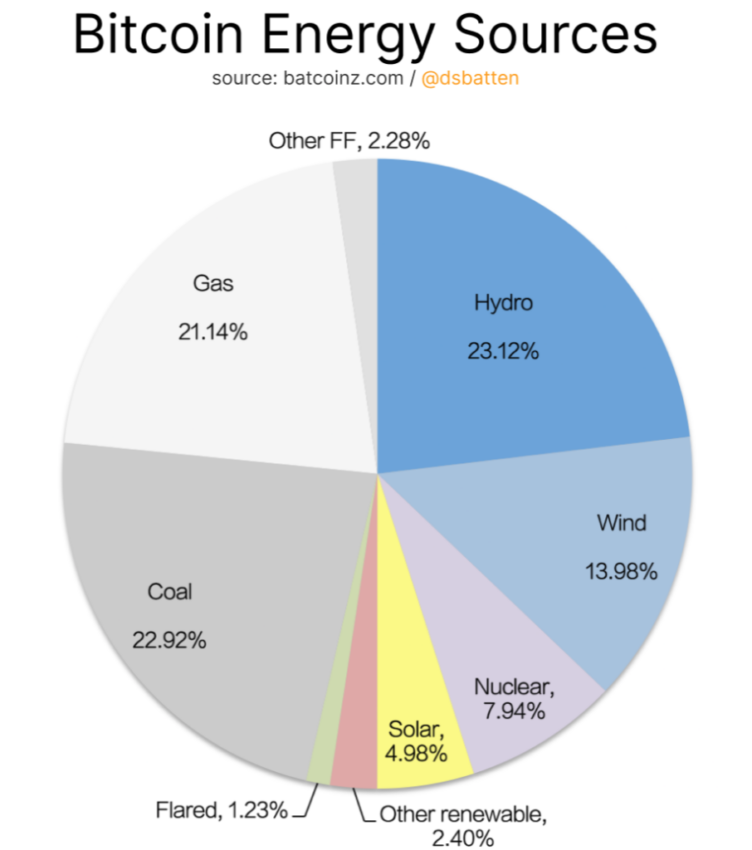 Furthermore, Feldman concurred that Bitcoin mining is a solution to improve the electric grid and lessen reliance on fossil fuels. However, he said that "most renewable energy sites are not profitable without government subsidies."
Government subsidies such as tax credits create market distortions, he said before adding: 
"The flow of these credits are controlled by the large banks that get bailed out in times of financial crisis, the very same banks Bitcoin will free us from."
Moreover, renewable energy sites face congestion and curtailment issues with no global market to sell into during demand troughs. 
Bitcoin solves this by creating a "global market for electricity that will encourage investment into renewable energy projects with a new revenue frontier."
Furthermore, Bitcoin data centers are flexible loads. This means they can seamlessly turn on and off. "This flexibility allows a renewable site to pivot to sell energy into the local electricity market when the grid/consumers need electricity," he said.
BTC Energy Usage Outlook
These arguments have been echoed by green energy firms seeking the flexibility of crypto mining operations. However, they still face stiff opposition from blinkered politicians and clickbait media who believe BTC will melt the planet.  
Global BTC mining operations currently use an estimated 137 TW/h (terawatt hours) per year, according to Cambridge University. 
That sounds a lot when compared to an entire country such as Ukraine, which uses 134 TW/h by comparison.
However, the electricity transmission and distribution losses in the United States alone could power the Bitcoin network 1.5 times with 206 TW/h per year. 
Disclaimer
In adherence to the Trust Project guidelines, BeInCrypto is committed to unbiased, transparent reporting. This news article aims to provide accurate, timely information. However, readers are advised to verify facts independently and consult with a professional before making any decisions based on this content.